Much of the left has devolved into rationalizing (or worse) about Obama, Boehner, and the debt ceiling deal. Which is slightly odd. This is one of those debates which is much more about process than anything else. The only reason to invest it with earth-shaking importance is if you're either (a) just starved for copy, or (b) it feeds into deeper, pre-existing concerns about Obama and/or Republicans. As a stand-alone issue, the debt ceiling debate will be forgotten in a few weeks.
All of that said, the two best liberal columns I've seen are from Glenn Greenwald and William Galston.
Greenwald's piece is part of his long-running, principled critique of Obama, and it's pretty good on its own terms. But the two bits that stood out were funny, self-aware links he posted. The first is to this cartoon: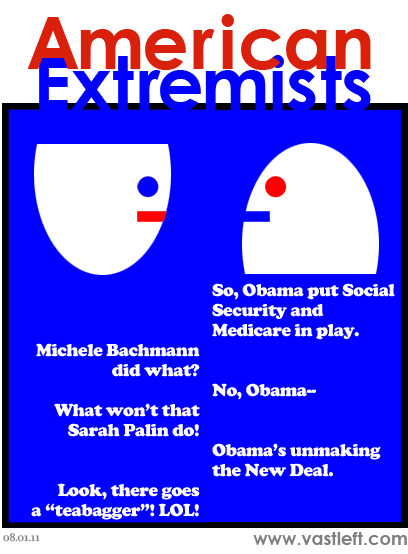 The second is a tweet by liberal Charles Davis: "Remember when Michele Bachmann killed all those innocent people in Afghanistan, Pakistan, Yemen, Iraq and Libya? Ugh. Hate her." Such self-examination will almost certainly pass as we get closer to November 2012. If it doesn't, Obama is in even bigger trouble than he looks, because it would mean that he's moving from Dukakis into Carter territory.
But Galston's piece is even more damning. Here he is dropping the hammer:
As many critics have pointed out, this man-made crisis was entirely avoidable. The Democrats could have raised the ceiling last December. They chose not to, handing a sword to their adversaries. Senate majority leader Harry Reid wanted to force the incoming Republicans to accept some responsibility for the increase. We've seen how that worked out. And if President Obama genuinely believed that the Republicans would cooperate because it was the right and responsible thing to do, then naïveté was the least of his mistakes. (A moment of introspection about his own 2006 vote against increasing the debt ceiling should have sufficed to disabuse him of that notion.)