The Cult Obama (cont.)
August 5th, 2014
The great Mollie Hemingway has a piece up at the Federalist about the weird, impersonal, mass-celebration of President Obama's birthday. I'm glad she wrote this, because yesterday I got the single creepiest fund-raising email I've ever seen. And it was situated around the Joyous and Patriotic Birth Celebration of The One. From "Grant Campbell" of BarackObama.com, the subject header was "Trying not to make this awkward, Jonathan":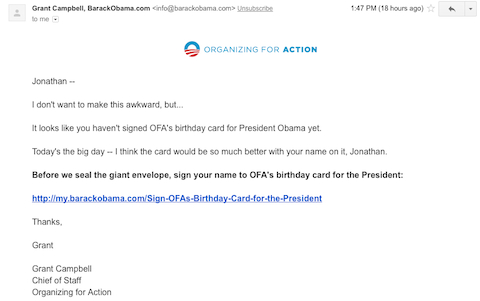 Read that again: "I don't want to make this awkward, but . . . It looks like you haven't signed OFA's birthday card for President Obama yet."
Yikes. The two unspoken messages here are: (1) We're watching; and (2) Your reluctance to do your patriotic duty is causing some unpleasantness, which is duly noted.
Absolutely the creepiest thing I've ever seen sent out on behalf of a politician.
I wouldn't say I've been missing work, Bob.

REPLY

[…] UPDATE: If you can believe it, it's even creepier than I presented. […]

REPLY

Yes but — last time I didn't receive a piece — and I was told –

REPLY

I find your lack of faith… disturbing.

REPLY

REPLY

Well, he certainly appears to be very childish from afar.

This infantile obsession with everyone (and he means everyone) singing him a song and eating cake is probably just a symptom.

He's got very deep psychological issues. Very deep.

REPLY

It's creepy because Obama and his operation are creepy. Doesn't anyone get that this guy is an unhinged anti American anti Republic Manchurian Candidate?

REPLY

I will not succumb to your pelvic sorcery

REPLY

REPLY

REPLY

"I'm sorry, Dave. I'm afraid I can't do that. "

REPLY

[…] UPDATE: If you can believe it, it's even creepier than I presented. […]

REPLY

You mean, "American" Politician, nest ce pas?

REPLY

I would have signed the card as Napoleon XIV

REPLY

The Obama girls are getting a new dog. Dad wants to call him Stasi.

REPLY

Every line on that card was creepy.

"It would be so much better with your name on it…..Jonathan…" I heard Hannibal Lecter when I read that.

REPLY

This sounds like something out of North Korea.

REPLY

So, Jonathan … what's happening? I almost forgot — I'm going to need you to go ahead and come in on…Sunday, too. Mmm-kay?

REPLY

"Open the pod bay doors, Barack."

REPLY

IIRC, shortly after the election, OFA was approved by the IRS as a somewhat tax-exempt, non-partisan educational operation.

Obviously, they take their educational responsibilities seriously.