The great Mollie Hemingway has a piece up at the Federalist about the weird, impersonal, mass-celebration of President Obama's birthday. I'm glad she wrote this, because yesterday I got the single creepiest fund-raising email I've ever seen. And it was situated around the Joyous and Patriotic Birth Celebration of The One. From "Grant Campbell" of BarackObama.com, the subject header was "Trying not to make this awkward, Jonathan":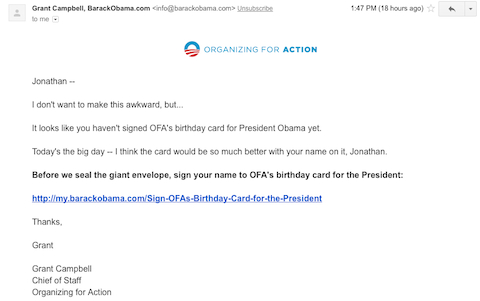 Read that again: "I don't want to make this awkward, but . . . It looks like you haven't signed OFA's birthday card for President Obama yet."
Yikes. The two unspoken messages here are: (1) We're watching; and (2) Your reluctance to do your patriotic duty is causing some unpleasantness, which is duly noted.
Absolutely the creepiest thing I've ever seen sent out on behalf of a politician.