If it feels like I'm always talking about how craven and awful and truly, truly stupid the New DC is, well, that's because I am.
But wait–there's more!
Worried that it's been months since the New York Times paid them any attention, DC has decided to roll out a transgender character. Isn't that shocking! Isn't that daring! Oh sure, they're going to take fire from all sides because the mainstream world just can't handle the raw truth and outlaw spirit of the comic book industry. But do they care? Hell no. They're going to épater the heck out of la bourgeoisie, consequences be damned. Because comic books aren't just superheroes running around in tights–they're nuclear bombs of subversive social commentary. They're relevant. And if you're not down with that, they got just two words for you . . .
As always, it's not just the cloying, transparent, desperate yearning for attention on the part of DC. It's how totally artless the attempts are. Here's the big transgender reveal in Batgirl: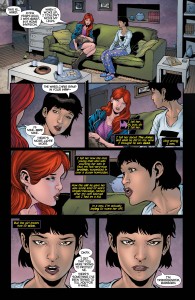 Gail Simone, who wrote this thing, sounds like someone in a hostage video, talking about how she's met "so many trans readers over the years" and how "there's a large LGBTQ readership in comics."
Really? I mean, really? The top 300 comics combine to sell about 6.72 million copies a month. Let's assume–just for giggles–that every one of those sales represents a single reader. (Which is obviously a gross over-count.) This UCLA professor pegs the transgender rate at 0.3 percent of the population, which seems a little high to me, but it's on the internet, so let's take his word for it. That puts the total number of transgender comic book readers in this little experiment at something like 20,000. But hey, maybe Gail Simone has met all of them. And besides, if all 20,000 of them hop onto Batgirl it'll be a big deal, since the title only sells 51,000 copies a month.
But again, this isn't really about whether transgender folks "deserve" representation because they do (or do not) make up a big enough portion of the readership. Superficially silly justifications like Simone's aside, we're not gerrymandering congressional districts here. We're talking about art. Comic book art, yes. But still, art.
And the transgendered Batgirl "reveal" is just Exhibit #727 of how artistically bankrupt DC comics is right now. They have no stories to tell; only stunts to pull.
Whether or not they understand it, DC's corporate mission isn't to get mainstream attention for its publicity stunts–or even to sell comic books. It's to create characters and stories which can be mined by Warner Bros. for film product. The publisher has, thus far, failed spectacularly at this task. The big question about DC is why their parent company continues to tolerate their failure.